E.A.A. FLY IN & MODEL DISPLAY
On June 29, 2019 Join in with the E.A.A.  Chapter 13 Dawn Patrol for their Fly in Breakfast at the Ray Airport located on Indian Trail Rd, North of 27 Mile Rd. from 7:00 am to 12:00 noon. Bring your best airplane/s to display and a write-up with the info about your plane/s. There will be no flying, just a static display. You will find the full scale pilots and spectators are just as interested in our models as we are of the full scale aircraft. Be there early  (before 7:00 am) to get a good parking spot and to set up your display. Don't forget your smile, your lawn chair and a sun shade if you have one.
Their breakfasts are good eating and at a very reasonable price.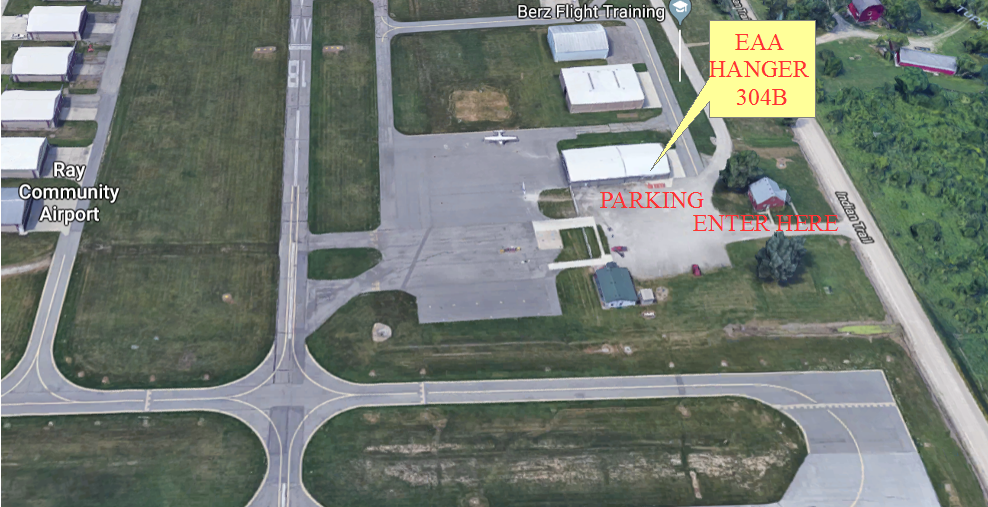 To minimize driving on un-paved roads:
• Take North Avenue to 27 Mile road, west;
• Then Indian Trail north to the airport.
• EAA Chapter 13 Hangar is off the main parking lot
• Hangar 304B
open the following link below to view the EAA flyer
EAA Fly-In Breakfast Flyer 6-29-19-2
---
7-3-19 Update: below
EAA Chapter 13 and RCCD breakfast at the Ray Airport Hanger
The annual EAA Chapter 13 and RCCD breakfast held at the Ray Airport hanger was somewhat lightly attended by the full scale aircraft due to the possible rain and pop up storms that was forecast for Michigan. The Home Land security helicopter, the Coast Guard helicopter and the Sheriff's Department was not present due to the "Jobby Nooner Event" held at the entrance of the shipping channel of the St. Clair River. The July 4th holiday week also took its toll on the attendance. There was the National Cherry Festival: U.S. Air Force Thunderbirds Air Show held in Traverse City Michigan that drew the long distant fliers.
When viewing the parking lot, it was full and parking was at a premium. The hanger where the breakfast was prepared and served seem to be continuously busy with people coming and going. Many attendees lingered talking with fellow fliers and hobbyist. The food was delicious, the cooks were busy, and the wait staff was efficient making room for the next hungry group.
The attendance by the RCCD club member was good. RCCD was well represented with a variety of model airplanes on display that did attract a number of visitors and full scale pilots asking questions and relating the models to their younger years when they were in the model airplane hobby.
Early morning photos by Herb Mills before the arrival of the full scale aircraft below
Mid day photos by John Bush below